This story touches on my quest to find a strong and durable American steel fire pit to enjoy my backyard on a new level.
As a child, I had the most amazing family vacations. My dad loved to take my siblings and I camping year round. We would pitch a tent and cook over the fire, living the dream every time. Sometimes we would even walk on the wild side and put faith in ourselves to catch fish for our daily dose of protein.
Starting fires and having them slowly burn all throughout the day for cooking our meals was a job I always had. I absolutely loved having this responsibility. Manning the fire was peaceful and therapeutic. I could stare at a fire and smell the wood burning for a lifetime.
When we would get home all of our clothing and belongings wreaked of the best smell in the world…. Campfire. To this day, if I smell a backyard fire I am instantly rehashing my glory days to my fiancé.
He proposed to me during our first camping trip together, beside the fire. And that night, we decided we needed to invest in an American steel fire pit for our own backyard.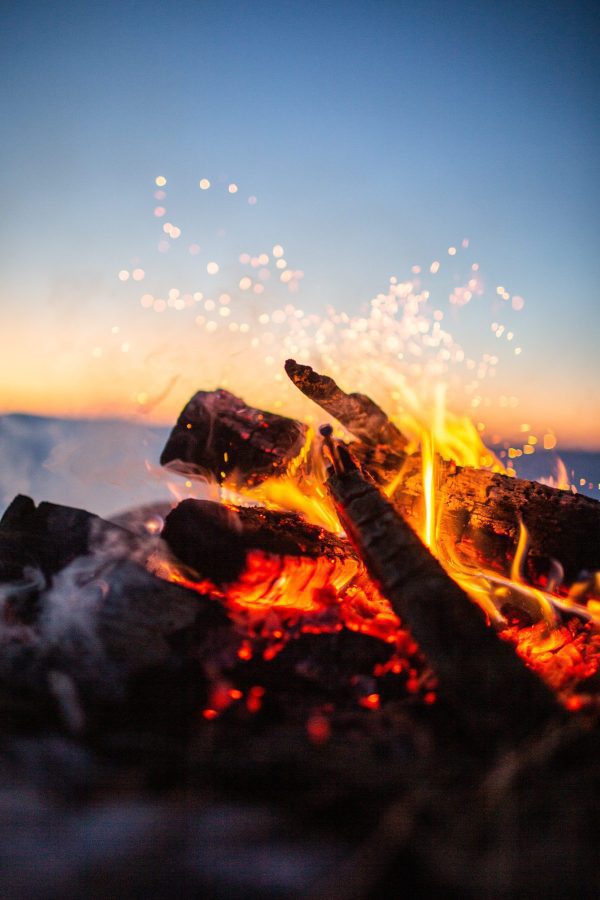 Types Of Fire Pits
My husband and I recently purchased a home outside of Atlanta in Temple, Georgia. Naturally, I wanted to start a backyard renovation around the fire pit we were envisioning. We were hoping to build a stone fire pit in the ground with a concrete slab for the chairs to sit on.
Interior wise the house was exactly what we wanted. Landscaping however, was a big project we had time to ponder and dream about. We knew that the backyard would eventually be sporting a fire pit. So we looked into what could be done without permits. Turns out anything we were thinking of was either forbid or strongly restricted. Options we looked into were –
Types of Fire Pits
Gas line
Propane
Natural Fuel
Wood Burning
Initially we were crushed with the restrictions. Dreams of a huge dream makeover with a slab and pit… eventually attaching to the dream pool were in the past. It was a shock since we had bought a nice chunk of land… we never thought it would be an issue. At least I could still camp in the backyard.
Our options for a backyard fire pit came down to non-permanent fire pits. I wanted to have the option of natural gas and wood burning, but the real deal was where we had to land.
There are SO many options we could shop, but many fire pots were cheaply made. I wanted a nice heavy solid steel pot that was big enough we could all sit around and cook on. All the big box stores had cheap aluminum or cheap steel made fire pits. Reviews saying the fire pit warped or peeled the top layer off and rusted after one use.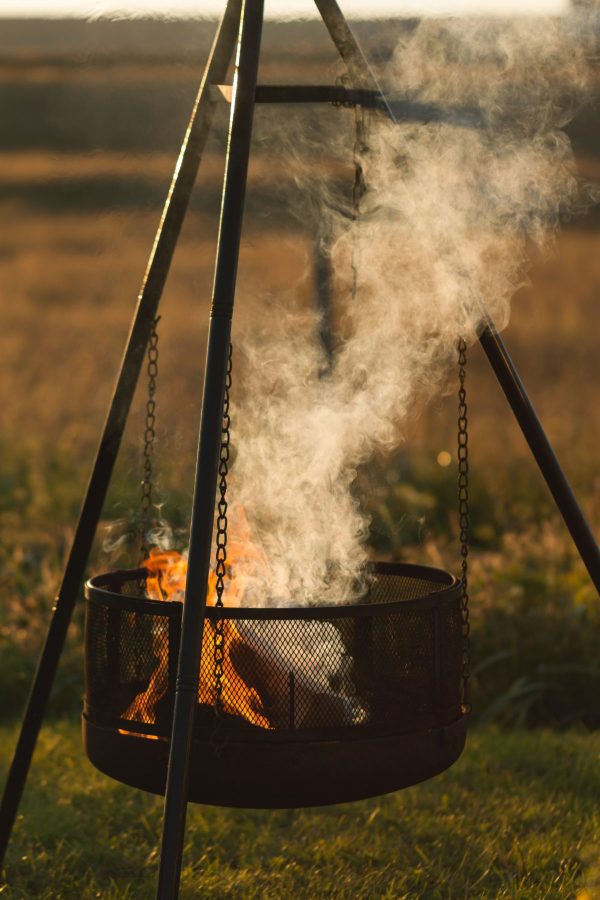 Finding A Quality Fire Pit
My husband did some research on types of fire pit materials. I wanted to be able to cook over the fire, and enjoy the fire pit year round without hassles.
Types of Fire Pit Materials
Steel
Tile and Stone
Copper
Cast Iron
Stainless Steel
With permit restrictions we knew tile and stone fire pits weren't an option.
Stainless Steel was what my dad would bring camping with us, but, they are next to impossible to find anymore. If you were lucky enough to get your hands on one… you clearly have a big budget. The prices on stainless steel fire pits are robbery.
Steel fire pits are made differently from one another and there are many cheaply made ones. Then you run into the power coat they spray on them… not ideal for wanting to cook food on. But, they are quite friendly with a tight budget.
That left us with copper or cast iron. I LOVED the look of copper fire pits, so rustic and durable. They claim to never rust and last a lifetime. Again, not for a small budget. Cast iron was what my husband convinced me to get.
Cast iron fire pits can be inexpensive, durable, rustic and unique looking. I would be able to cook meals on the fire and enjoy year round. They also have larger options! Yay!
Local Fire Pit Glory
When we started our search for a solid, cast iron, heavy, solid beast of a fire pit we looked for local suppliers first. Living just outside Atlanta City we knew there had to be plenty options. And as luck happened… there was an amazing creator right in our town!
A heavy duty steel creator! Not only did they build custom fire pots, they built custom braziers as well! The quality of their work from the items they had to look at on hand were super heavy, simple and exactly what we were looking for. The cast iron idea was now out the window.
When we ordered our custom brazier the company gave us a heads up that it does take them time to build. Which may have upset me if I hadn't already seen the type of product I was going to be getting.
During our conversation the company gave us ideas of ways we could build around the brazer to make it more like we had initially dreamed it would be. I was over the moon with the suggestions and referrals to the companies they would recommend. Above and beyond the job. Fantastic!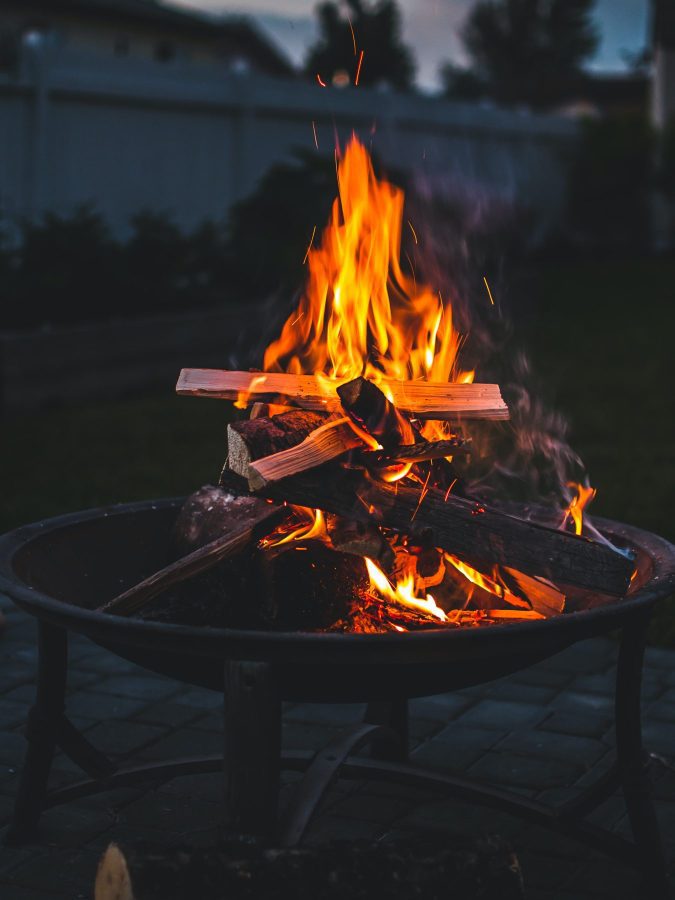 My Thoughts
The journey to our perfect backyard was definitely filled with disappointment. My husband and I had given up on having the perfect modern styled backyard. We didn't think it would be possible to create anything of our level of pickiness until we found our local forger.
Our customized brazier is large and gorgeous! I have cooked many meals in it while camping in my backyard with hubby. The gravel pit poured around it was a super cool "glamping" vibe combined with the circle stone directly underneath the brazer fire pit.
There has been plenty of rain and still have yet to find any rust on my beastly fire pit. Proving even more so, we chose the best company to create our fire pit.